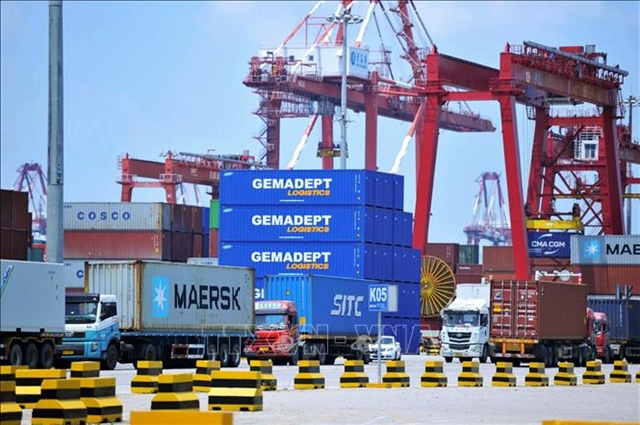 HCM CITY — The  HCM City Department of Industry and Trade has unveiled a project to promote exports over the next five years.
'Developing Exports in HCMC until 2025, with a Vision to 2030' forecasts opportunities for and challenges to exports, identifies the most competitive export sectors and products and propose solutions and strategies for developing exports.
It will take growth quality as the foundation to shift to exports of services and intangible goods such as software and digital content, encourage links between the country's various regions to increase exports to markets with which Việt Nam has free trade agreements, improve the competitiveness of export items by capitalising on the city's comparative advantages, join global value chains, and increase links between businesses.
Firms should speed up digital transformation to expand exports amid rising cross-border e-commerce, the Ministry of Industry and Trade said.
Đặng Hoàng Hải, director of the ministry's Việt Nam e-Commerce and Digital Economy Agency, said together with opportunities from new-generation free trade agreements, the trend of shifting from traditional to digital-based business models is becoming common.
Digital transformation is an effective solution for firms to expand their export markets and create a flexible and efficient export model, he said.
A number of Vietnamese firms are now setting up business-to-business and business-to-consumer e-commerce business models, he added.
On a global scale, cross-border e-commerce is developing rapidly and has become a major trend in trade in recent years.
The project will also develop logistics, replan sea and river ports in the city and their infrastructure, improve transport links between HCM City and other production areas so that the city becomes a logistics and export services hub.
It will develop human resources, reform public services and employ IT to create an integrated and shared import-export database for businesses' use.
The city will concentrate on the eight following solutions to increase its exports over the next decade:
Improve the technical level of the mechanical industry to enable a shift up the value chain with higher chances of diversification while boosting the growth of supporting industries to raise the rate of domestic production.
Improve the ability to export software and digital content related to finance and tourism.
Promote research and development activities, foster the growth of supporting industries to raise the rate of domestic production while attracting investment in hi-tech projects to support electrical – electronic products and launch the 'Saigon Innovation Network' at the Saigon Hi-tech Park.
Improve the competitiveness of conventional labour-intensive export groups, develop the local market for feedstock and raw materials for manufacturing and value-added services.
Strengthen the strategy for logistics growth in the city.
Increase the performance of investment and trade promotion tasks for typical export products in the globalisation era.
Continue to reform administrative procedures to ensure more transparency and reduce the processing time and cost, and adopt solutions for reducing the time it takes for both documents and goods at customs by half.
Co-operate with research units and educational institutions to train quality human resources.
Exports by companies based in the city in the first eight months of the year were worth US$28.4 billion, a 4 per cent increase year-on-year, according to the Department of Industry and Trade. — VNS
Source: https://vietnamnews.vn/