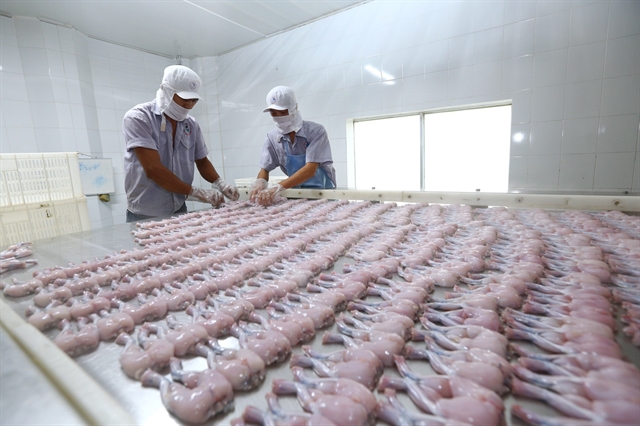 HÀ NỘI — As the European Union (EU) – Việt Nam Free Trade Agreement (EVFTA) took effect amid the COVID-19 pandemic that has disrupted global supply chains, investment and trade flow, local firms need appropriate solutions to take advantage of the trade agreement, a seminar has heard.
The seminar on finding opportunities for Vietnamese companies amid COVID-19 was held in Hà Nội on Wednesday, organised by the Vietnam International Arbitration Centre (VIAC) and Việt Nam Chamber of Commerce and Industry (VCCI).
Experts at the seminar noted that the COVID-19 pandemic might change the EU market.
Economist Võ Trí Thành said that to adapt to the trend of restructuring the global supply chain caused by the pandemic, Vietnamese businesses must focus on innovation and utilise digital transformation to bring products to market.
He also recommended businesses strengthen connectivity to build partnerships and markets, grasp and understand international practices and pay more attention to brand reputation building, social responsibility and risk management.
The EU market is not incredibly large with about 500 million people, but it is the second-largest commodity importer in the world. Key products of Việt Nam exported to the EU include footwear, vegetables and fruits, aquatic products, wood and plastic.
The benefit the  EVFTA brings to Vietnamese enterprises is to take advantage of tariff preferences for exports, but the EU has stringent policies, laws, and business and consumption culture, said Nguyễn Thị Thu Trang, director of the WTO Integration Centre under the VCCI.
The EU has many regulations on technical barriers related to food hygiene and safety, goods labelling, labour, environment and intellectual property.
Trần Hữu Huỳnh, VIAC chairman, said EU inspection systems were very strict and EU consumer culture was high, therefore, products must meet their criteria.
The legal culture in doing business between European and Vietnamese enterprises also had a gap, he added.
For example, EU businesses were very strict when implementing contracts with clear standards and criteria, he said.
Vietnamese firms, especially small and medium-sized enterprises, tended to draft incomplete contracts with a lack of detail, leaving them at a disadvantage when disputes occurred, he noted.
In order to take advantage of EVFTA's opportunities, Vietnamese businesses need to thoroughly understand legal issues, consumer culture, corporate governance and partners of its partner, said Huỳnh. — VNS
Source https://vietnamnews.vn